Camella Bantay - LOCATION
Camella Bantay is located at Brgy. Cabaroan Bantay, Ilocos Sur.
The Municipality of Bantay in Ilocos Norte is a hilly and elevated town situated right next to the famous Vigan City and surrounded by other historic northern towns of Caoayan, San Vicente, Sta. Catalina, Sto. Domingo and Mangsingcal. It is located roughly 252 miles from Metro Manila and it can be reached via the Manila North Road. Its average elevation is said to be 100 meters above sea level thus the problem of flooding in this town is a remote possibility.
Up north, Bayan is very famous for its forest reserves and agricultural farms which is said to be home to a wide range of a bio-diversified community. Plants and animals which you don't commonly see in other parts of the country are seeking refuge in Bayan's beautifully preserved forests. Cattle and water buffalos are main domestic animals common to every household here because these mammals are mostly used for farming.
The town of Bantay, to this day, holds the dignity of historical importance of the town to the highest level. It is here where Spanish settlers built a tribunal or a combination of these structures: town hall, church, bell towers, including roads and street by extreme forced labor. This is also the town where the first book written in Ilocano was printed containing the full translation of Bellarmine Cathechism written by Cardina Robert Bellarmine which has influenced the culture, morality and language of the entire Ilocos Region.
To hold to its promise of providing comfort and convenience for its residents, Camella Bantay was constructed close to important establishments and edifices with easy distance reach.
Schools:
STI Vigan
Bantay East Central School
Bantay West Central School
JeNeFa Scholastica, Inc.
Immaculate Conception School of Technology
St. Paul's College of Ilocos Sur
Divine Word College Vigan
Silang Elem. School
San Vicente Integrated School
Churches:
Bantay Church & Bell Tower
Church of God International
St. Paul Metropolitan Cathedral
Malls/Shopping Centers/Markets:
JTC Mall
Bantay Public Market
Puregold Vigan
San Vicente Town Mall
Jollibee Bantay
7-Eleven Bantay
Hospitals:
Lahos Hospital
Tabasan Dental Clinic Annex
Northside Doctors Hospital
Patao Clinic and Hospital
Rabara Clinic and Hospital
St. James Hospital
Medical Mission Vigan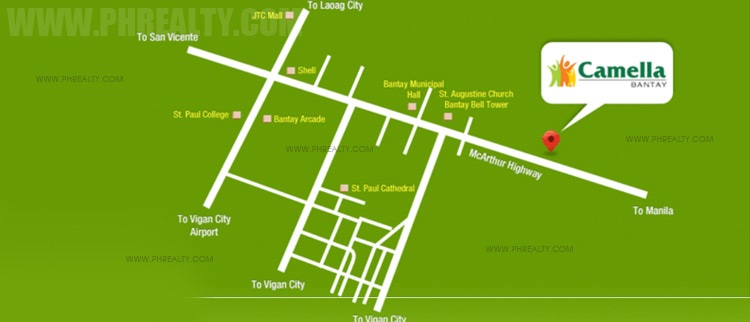 Bantay is a town surrounded by Vigan City, San Vicente and other towns. Access to these nearby towns are equally very easy because apart from its proximate distance, the availability of public transportation is really high all day long, except at late nights.
If you are moving in to Camella Bantay from another town or from Metro Manila, you don't have to worry about transferring your children to local schools because they can just be easily reached. Local marketing for daily household needs is also much easier because other than the fact that the proximity of public markets and shopping centers are accessible with easy-access public transportation. You'll be surprised at how low wet and dry markets prices are compared to the one in Metro Manila.